The bluest eye, By Toni Morrison:
Available at: COCALICO HIGH SCHOOL
pg. 162-163
He put his head down and nibbled at the back of her leg. His mouth trembled at the firm sweetness of the flesh. He closed his eyes, letting his fingers dig
into her waist. The rigidness of her shocked body, the silence of her stunned throat, was better than Pauline's easy laughter had been. The confused mixture of his memories of Pauline and the doing of a wild and forbidden thing excited him, and a bolt of desire ran down his genitals, giving it length, and softening the lips of his anus. Surrounding all of
this lust was a border of politeness. He wanted to fuck her—tenderly. But the tenderness would not hold. The tightness of her vagina was more than he could bear. His soul seemed to slip down to his guts and fly out into her, and the gigantic thrust he made into her then provoked the only sound she made—a hollow suck of air in the back of her throat. Like the rapid loss of air from a circus balloon. Following the disintegration—the falling away—of sexual desire, he was conscious of her wet, soapy hands on his wrists, the fingers clenching, but whether her grip was from
a hopeless but stubborn struggle to be free, or from some other emotion, he could not tell. Removing himself from her was so painful to him he cut it short and snatched his genitals out of the dry harbor of her
vagina. She appeared to have fainted. Cholly stood up and could see only her grayish panties, so sad and limp around her ankles. Again the hatred mixed with tenderness. The hatred would not let him pick her up, the tenderness forced him to cover her
pg. 166
And since he was too diffident to confront homosexuality, and since little boys were insulting,
scary, and stubborn, he further limited his interests to little girls. They were usually manageable and frequently seductive.
pg. 181
The little girls. The little girls are the only things I'll miss. Do you know that when I touched their sturdy little tits and bit them—just a little—I felt I was being friendly? I didn't want to kiss their mouths or sleep in the bed with them or take a child bride for my own. Playful, I felt, and friendly. Not like the newspapers said. Not like the people whispered. And they didn't mind at all. Not at all. Remember how so many of them came back? No one would even try to understand that. If I'd been hurting them, would they have come back? Two of them, Doreen and Sugar Babe, they'd come together. I gave them mints, money, and they'd eat ice cream with their legs open while I played with them. It was like a party. And there wasn't nastiness, and there wasn't any filth, and there wasn't any odor, and there wasn't any groaning—just the light white laughter of little girls and me.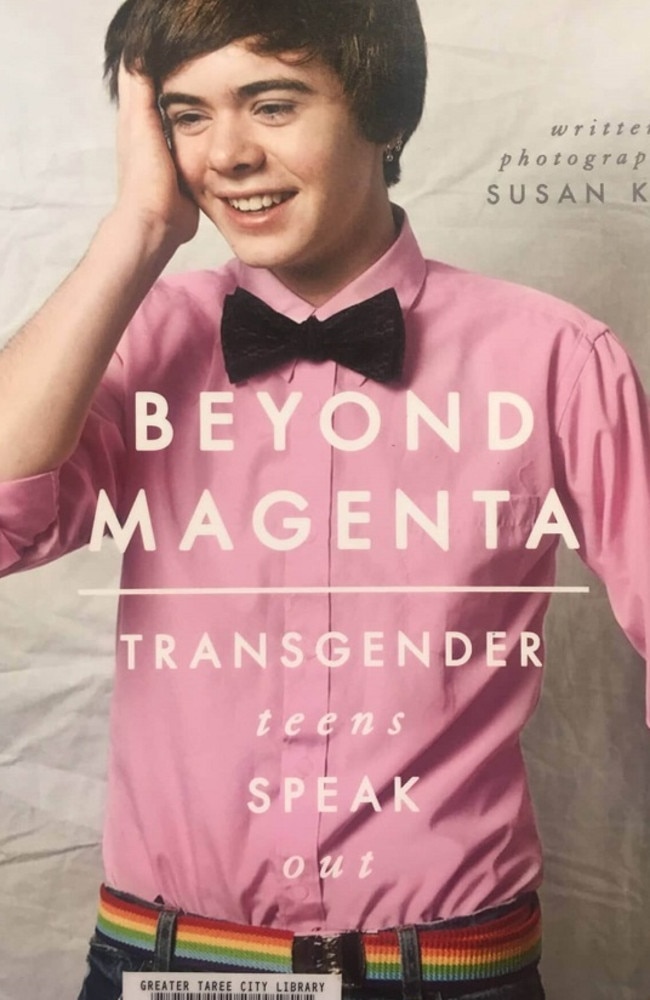 BEYOND MAGENTA, by Susan Kuklin
This book is available at COCALICO HIGH SCHOOL and EBOOK at the Middle School.
Strong sexually explicit content includes pedophilia, which is still a crime in the USA.
The 2014 book, Beyond Magenta: Transgender Teens Speak Out, features first-person interviews with six transgender or gender-neutral young adults conducted by US author Susan Kuklin.
This book contains Descriptions of violent behavior, graphic sexual content, and pedophilia.
This includes pushing over a pregnant teacher and justifying that behavior (pg 119).
This book also contains graphic descriptions of oral sex being given by children as young as 6 years old. "From six up, I used to kiss other guys in my neighborhood, make out with them, and perform oral sex on them. I liked it. I used to love oral. And I touched their you-know-what's. We were really young but that's what we did." -pg 113.
"This guy got me to perform oral sex on him. I thought I was doing the right thing by performing on him. But I Wasn't. He was just abusing me. He had total mind control over me………. We finally got caught in the act, and I was very happy because I wanted it to stop. I think the directors were worried that they could get sued because they kept telling me in was consensual. It wasn't consensual at all" (pg 122)
On page 123 it talks about 14-year-old Mariah being asked by a 17-year-old student for oral sex. The passage reads "well, one time he approached me. He said I'm told you're really good at head. I was freaked out. I was excited. I was like oh my god. He said Well why don't you do that on me. I said I would, but I have to go to work right now. When I come back, I will do it" (pg 123-124)
33 SNOWFISH, by Adam Rapp
Strong themes of Sexual abuse, drug addiction and child prostitution
This book is available at COCALICO HIGH SCHOOL
Custis, a homeless boy, Curl, a fifteen-year-old drug-addicted prostitute, and her boyfriend Boobie, who just killed his own parents, are on the run from the police with a baby, Boobie's little brother. They are all set out to make a better life, regardless of their past.

When you have nowhere to go, whom do you turn to? Custis does not have parents. He has been living with Bob Motley, who has been sexually abusing him over a period of time and forces him to participate in pornographic films with other children. Custis decides to run, but he has nowhere really to run to. While collecting quarters on the street near an arcade he notices a strange boy with black eyes named Boobie. The two meet and become friends. They make a home in the woods and are soon joined by Curl, Boobie's fifteen-year-old girlfriend who is addicted to drugs and prostitutes herself in order to survive. After Boobie inexplicably murders his parents, he grabs his baby brother in hopes of selling him to the highest bidder. The four of them hit the road, running from the police and doing anything they can to survive.

A haunting and depressing story that shows an unfiltered view of three children who have been forced to live lives they did not deserve. Through all the pain and suffering, these characters display a human quality that is actually quite beautiful. The overall underlying message of the story is really amazing as each character gets the opportunity for redemption. It should be noted that there is a lot of offensive language, though the language fits the context of the story. There is no easy way out in this story, the reader must work for it, and I have to say, I really appreciated this aspect as it leaves the reader with a message to reflect on.
OUT OF DARKNESS, by Ashley Hope Perez
This book is available at COCALICO HIGH SCHOOL
This book contains sexual content such as child rape, child abuse, masturbation, and pornography. It includes bigotry, racism and extreme violence. The book is VERY detailed, vivid, and graphic. There are descriptions of the main character being sexually abused by her father. After the girls' mother dies, her Pastor encourages her to marry her stepfather as a child. Explicit Language include racial slurs such as the "N" word and "dirty Mexican,".
PEDOPHILIA is a crime in the USA and those who approved this book should be considered for termination.
Quotes from The books include:
"The boys among us had no trouble moving past the plain clothes and laying down plans. Take her out back, we boys figured, then: hand on the titles; put it in her coin box; put it in her cornhole; grab a hold of that braid"
"He shifted his pajamas, and the part of him that made him a man stuck out, reddish purple and frightening. She had never seen one before except on a baby. This was different. He lifted her hand to his Mouth and licked it. Then he lowered her hand down and closed it around the hardness. His hand moved hers……she watched her hand move back and forth like it didn't belong to her"
"His hands opened her thighs, and then he was touching her with his mouth, kissing warmth, wetness. She might have been ashamed but she wasn't. She was alive, trembling alive"
The book goes on to get worse, it has multiple, comprehensive instructions on giving "hand jobs" with an adult male teaching a teen girl, female masturbation justified for pain relief and mental escape by the girl being sexually abused by her stepfather. Male masturbation by stepfather and females love interest. Later in the book, the author teaches young-adult males how to "go down" and give girls a "gift."